---
…Or view Cool Mic in Google Play on your web browser
---
---
Direct Downloads:
---
STABLE:
(Released 2018-10-01)
DOWNLOAD: CoolMic-release-vn1_0_6-vc10.apk
SHA256SUM:
7947bcc8b815a95ece08ad000cb916befea520611396c795097dc6e3c42d6ffa
---
BETA:
(Released 2020-02-24)

DOWNLOAD: CoolMic-beta-release-vn1_1_1-vc10101.apk
SHA256SUM:
d60e1ea0c30e52b7ca6f619dc958525808fd98da143fa132746aad0a6dc89f9e
---
GITHUB:
Visit our Github page to view and download the Cool Mic source code:
https://github.com/CoolMicApp/CoolMicApp-Android
---
License:
Cool Mic is distributed under the GNU GPLv3 license.
Disclaimer:
Cool Mic is distributed on an "as is" basis, without warranties or conditions of any kind, either express or implied.
Supported Android Versions:
Cool Mic is currently supported on Android version 4.1 (Jelly Bean) and above. It may work on versions below this – YMMV.
Data Usage:
Cool Mic is a livestreaming app. Though we use very efficient open source codecs, it may be considered a bandwidth intensive app. Please be aware of the data you are using while using Cool Mic. We are not responsible for data usage charges.
Feedback Appreciated:
If you encounter an issue with Cool Mic, please contact us to give feedback instead of posting a negative review in Google Play. We greatly appreciate all feedback you can give us to help build a better, more stable and more feature-packed Cool Mic!
Other / Related Links:
---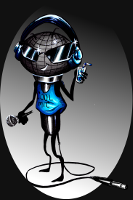 Copyright (C) 2014-2020, Logical Networking Solutions