---
---
View Cool Mic in Google Play on your web browser
Direct Download:
If you would rather download Cool Mic directly, we have provided the same release .APK file as in Google Play here.
Github:
Visit our Github page to view and download the Cool Mic source code:
https://github.com/CoolMicApp/CoolMicApp-Android
Disclaimer:
Cool Mic is distributed on an "as is" basis, without warranties or conditions of any kind, either express or implied.
Supported Android Versions:
Cool Mic is currently supported on Android version 4.1 (Jelly Bean) and above. It may work on versions below this – YMMV.
Data Usage:
Cool Mic is a bandwidth intensive application. You are responsible for any possible data usage charges incurred while using Cool Mic. We recommend unmetered Internet access such as Wi-Fi or "unlimited" data plans while using Cool Mic to maximize stream quality as well as to help ensure no additional data usage charges.
Feedback Appreciated:
If you encounter an issue with Cool Mic, please contact us to give feedback instead of posting a negative review in Google Play. We greatly appreciate all feedback you can give us to help build a better, more stable and more feature-packed Cool Mic!
Other / Related Links:
---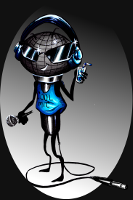 Copyright (C) 2014-2018, Logical Networking Solutions